Nathan's World
Hi! I've set up this website to experiment, learn and share a little bit about myself with family and friends. I'll be playing with website design, putting up links to things I'm interested in and rambling about nothing and everything. Thanks for stopping by.
---
I'm often asked for my recommendations whenever election time rolls around. I'm pleased to offer my suggestions in the November 2, 2004. Please remember that these are only suggestions and you should do your own research and make up your own mind. Having said that, please feel free to take a look at my recommendations and let me know what you think!
---
BTW, I know it's been a long time since I've updated this site. I've been pretty busy but I do have some updates coming soon, including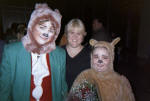 Hope's performance in the Family Playhouse presentation of "The Adventures of Beatrix Potter and Friends". (As a teaser, here's a picture at the left of Hope as "Chutney" with Lori and Buck Patton as the Fox. Lori did their makeup.) I also updated the Ryan's restaurant review to reflect their upcoming change and I posted a review of La Hacienda as a down payment for future updates! :-) So stay tuned!
---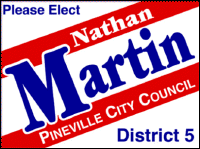 Over a year has gone by since I was elected to fill the empty seat on the Pineville City Council that was vacated upon the untimely death of my friend Randy King. There were three qualified candidates in the election and I was fortunate to receive enough votes in the primary election to be elected without having a runoff. Thank you for your support and encouragement. Don't forget to visit my website and sign my guestbook!
---
Amazon Videos
Here are two videos from my trip in February 2003 to the Amazon River in Colombia, South America. These videos are of my friend Lucas Moncada and me doing a puppet show in the village of Macedonia, Colombia.
I kept a journal during the trip which is available at my church's website. I also led a group from our church (including my family) to work on an orphanage in Reynosa, Mexico. There's a photo diary available at my church's website.
---
My sister Shana had a baby on 10/28/02 and here are some early photos. [added 10/28/02]
We've been doing some remodeling. Take a peek. [added 8/30/02]
This is the section where I give a little peek into the life of my family. Get to know Lori, Joi, Faith and Hope through these pages. [Read more]
Joi took part in her second ballet recital on Saturday, May 25. [Read more]
Two of my daughters were recently in Pineville High School's stage production of "The Wizard of Oz". [Read more]
I like to eat! I've always thought it would be neat to share my experiences at local restaurants with other folks so I've set up a Restaurant Reviews section. I'll be updating it quite often so check back. If you disagree with a review, let me know. If you'd like me to review a restaurant, let me know that as well.
Can you find 20 books of the Bible in this paragraph? This is a brain puzzle that you might enjoy. I've also posted the answer page (but don't peek!)
I've just added a guestbook to the site. I'd love to hear from you to know what you think about the site, where you're visiting from, how you heard about it, etc. PLEASE visit my Guestbook and Add an entry!