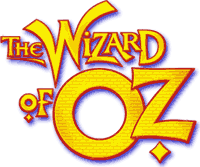 Two of my three daughters recently took part in the local high school stage production of "The Wizard of Oz". The high school was looking for elementary students to play the "munchkins" and Faith and Hope were selected. Like a proud dad I went to the production and took LOTS of pictures. I even managed to get a few seconds of video. (It was my first attempt at capturing video, so please be kind.)
All of these pictures were taken on a Sony Mavica FD-88 camera. They were originally taken at 1024 x 768. Then I resized them to 640 x 480 to put on the web. The photos below are thumbnails that link to the 640 x 480 pics. If anyone would like to see any of the 1024 x 758 files, I could post them by request.
A couple of the pictures I brightened or did a little color correction, due to bad lighting, no flash, etc. That's a new area to me as well so if anyone has any tips, I'd welcome them. I did the adjustments in IrfanView, a handy image viewer/manipulator. Here goes!
| | |
| --- | --- |
| | This picture was taken before the "Munchkins" came out of hiding. They were all hidden behind the props and I saw Hope peaking out from behind the balloons. There wasn't much light back there so I had to do some work to the picture to get it to look halfway decent. The picture originally had a lot of RED in it, which I decreased. Then I increased the brightness and contrast to make it viewable. I wish it would have come out clearer because she was really being cute. (Click on picture for larger view.) |
| | In this picture the "Munchkins" are coming out of hiding. This was their first time on stage and you can see the excitement on Faith's face. She did a great job and really enjoyed being on stage. (Click on picture for larger view.) |
| | Here is Faith in the midst of some of her new buddies. She seemed very poised and confident, even helping others. I was very proud of her. (Unfortunately for me the camera focused in more on Meg Tarpley, the girl in orange in front of Faith rather than on Faith. Of course, Meg's parents, Ed & Margaret, might like this picture! <G>) (Click on picture for larger view.) |
| | Hope and Faith and the rest of the "Munchkins" listen attentively to the good witch Glinda (played by Ashley Crooks). Faith is mostly hidden behind Hope. (Click on picture for larger view.) |
| | Hope and Faith listen (somewhat) attentively while the Munchkin Mayor addresses Dorothy as Glinda observes in the background. Faith somehow saw me taking the picture and put on her "come one dad" face. The little girl between Hope and Faith is adorable. (Click on picture for larger view.) |
| | The girls are getting ready for their big dance scene. The did a lot of skipping and going around in circles. I was really proud of Faith for helping out Hope, who hadn't been able to go to as many practices. But Hope did pretty well in her own right. (Click on picture for larger view.) |
| | Once again Faith leads out in the dance. Another shot that didn't focus where I wanted it to. I was using the zoom, careful to only use the optical zoom, not the digital zoom but with all the action onstage, it was hard to get good action shots. (Click on picture for larger view.) |
| | Hey Hope! The camera's over here!!! You sure are cute! (I love the Uncle Sam outfit!) (Click on picture for larger view.) |
| | Take a bow! Faith saw me taking the picture and put on that bashful, "I know what you're doing," look. Cute kids - even if I am a little prejudiced towards them! (Click on picture for larger view.) |
Videos
"Ding Dong the Wicked Witch is Dead!"
3001-vid.mpg (672 KB)

The song just before the (other) Wicked Witch shows up.
3002-vid.mpg (510 KB)

"Follow the Yellow Brick Road/We're Off to see the Wizard"
4003-vid-both.mpg (744 KB)
Scenes from Oz
| | |
| --- | --- |
| | Here's a scene from the beginning of the play where Dorothy sings "Somewhere Over the Rainbow". Lana Hebert played the part of Dorothy and did a tremendous job. She's got a great voice and wonderful projection. During the morning performance her mic kept cutting out but she overcame that hurdle without any problem. (Click on picture for larger view.) |
| | Here the TinMan (Cory Rice), the Scarecrow (Anthony Carmouche) and Dorothy confer in the enchanted forest. If you look at the tree behind Dorothy you'll see one of the living "trees". I had to lighten up this picture quite a bit because there was no lighting on this side of the stage. (Click on picture for larger view.) |
| | This was one of my favorite pictures. I didn't retouch it at all. The colors came out so bright and vibrant. (BTW, they tell me the fellow playing the horse actually did have a horse head in the evening production. In the morning production he was a "man of a different color" but in the evening production he was a "horse of a different color". Good job of improvising by the cast.) (Click on picture for larger view.) |
| | This scene is when the fabulous foursome get to Oz and get some special treatment. Dorothy is getting the beauty parlor treatment and even Toto got a new bow. Toto was played by a Yorky named Toto (owned by Karen Coaker). He was quite a trooper and added quite a bit to the play. (Click on picture for larger view.) |
| | While in Oz, before getting to see the Wizard, Scarecrow, Lion, Dorothy and TinMan chat a bit. The Lion was played by Ryan Ray and he stole the show. He was hilarious. His accent was reminiscent of the movie and his acting was perfectly over the top. He cracked the audience up! (I hear he was a senior who had graduated a couple of nights before but came back for the play. Very nice.) (Click on picture for larger view.) |